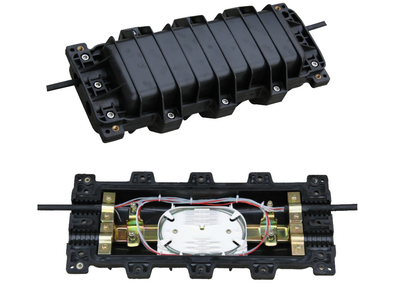 Fiber Optic Splice Closure is a device used to offer spaces to fuse optical fiber as well as to provide protections to the fused fiber joint point and the fiber optic cables. It protects fiber optic splice while providing fast and easy no cost reentry. Inside the closure there are fiber splice trays. Optical fibers are fused and put inside the fiber splice tray for protection. Then the closure itself provides further protection.
The fiber optic splice closure is installed on wires, in manholes, in ducts, and mounted on poles. It provides reliable sealing performance and fiber splices are enclosed in a ribbed polypropylene body that has high mechanical and environmental specifications.
There are various kinds of fiber splice closures suit for different applications. They are used with aerial fiber optic cables, duct fiber optic cables and direct buried fiber optic cables. Generally, fiber optic splice closures are used outdoors, some even used underwater. Typical fiber optic splice closures include dome type and horizontal type.