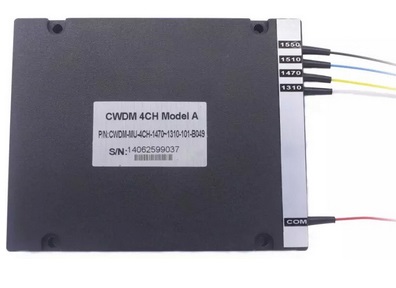 Coarse wavelength division multiplexing (CWDM) is a method of combining multiple signals on laser beams at various wavelengths for transmission along fiber optic cables, such that the number of channels is fewer than in dense wavelength division multiplexing (DWDM) but more than in standard wavelength division multiplexing (WDM).
CWDM systems have channels at wavelengths spaced 20 nanometers (nm) apart. This allows the use of low-cost, uncooled lasers for CWDM. In a typical CWDM system, laser emissions occur on eight channels at eight defined wavelengths: 1610 nm, 1590 nm, 1570 nm, 1550 nm, 1530 nm, 1510 nm, 1490 nm, and 1470 nm. But up to 18 different channels are allowed, with wavelengths ranging down to 1270 nm.
TRANSCOM's Coarse wavelength division multiplexer (CWDM Mux/Demux) utilizes thin film coating technology and proprietary design of non-flux metal bonding micro optics packaging. It provides low insertion loss, high channel isolation, wide pass band, low temperature sensitivity and epoxy free optical path.
We offers a full range of CWDM Mux/Demux devices to suit all kinds applications and network solutions. Some most common ones are: Gigabit & 10G Ethernet, SDH/SONET, ATM, ESCON, Fibre Channel, FTTx and CATV. Our CWDM Mux Demux products provide up to 16-channel or even 18-channel Multiplexing on a single fiber. Due the the low insertion loss is needed in WDM networks, we can also add "Skip Component" in a CWDM Mux/Demux module to reduce the IL as an option. Standard CWDM Mux/Demux package type include: ABS box package, LGX pakcage and 19" 1U rackmount.